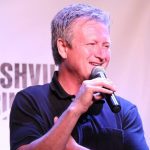 Nashville Song Pitcher was created by industry veteran Keith Mohr. Keith has been in the industry for over 25 years, first starting out as a musician in Baltimore, MD. Keith toured the USA with a band during the early 1990's, and then started a commercial recording studio near Harrisburg, PA (Broken Records Studios) in the mid 1990's.
During that time, he created an online community for Christian musicians called "Indieheaven.com" which is still online and serving artists and songwriters! Indieheaven grew to be a leader in its class and was one of the first distribution websites to offer digital downloads for consumers to purchase singles and digital albums.
Keith relocated to Nashville, TN in 2003 to better service his music production clients. Keith soon created an annual music conference and for the next 6 years it attracted thousands of musicians from around the globe. The events were focused on DIY and artists being independent, together.
In 2008, Keith created the most popular open-mic in Nashville, called "Nashville Rising Star." It was held at a popular restaurant/venue in Franklin, TN and became so successful it had to be relocated. It is now held at Wild Wing Cafe in Cool Springs. Many emerging songwriters have been discovered through Nashville Rising Star, with several contestants being signed to major artist/publishing deals. One contestant was even personally referred to Miley Cyrus by Keith and Sue Mohr for her world-wide "Bangerz" tour and was hired and toured the globe. This was a direct NRS connection that they are proud of! NRS recently completed it's 26th series in July 2016 with the 27th series slated to begin in September 2016.
Most recently, Keith has been holding featured songwriter rounds and booking/producing shows at Wild Wing Cafe in Cool Springs through his "Mohr Music Productions" company.
Keith recently launched "Nashville Songwriters Alliance," which brings songwriters together in community, creativity and collaboration with the intent of having songs cut by major artists.
In May 2016, Keith created and held a songwriter retreat called "InspireSong" in Aspen, CO. 100 songwriters from around the globe attended and with the focus of, "Creating with the Creator."
Keith is a popular clinician and teacher at music conferences and is a contributor to several music publications where he extols the virtues of being "first, best or different.
Keith also provides branding, social media, consulting and management services through his "Mohr Creative Group" company.
He also continues to produce music through his "Water to WIne" production service.
With Nashville Song Pitcher, Keith will capitalize on the many relationships he has created and cultivated for the past 13 years building his businesses in Nashville. The goal of NSP is to discover new songs and be a song champion for songwriters worldwide.
Curiosity and success stories are the fuel in Keith's engine!